Lycetts Team Champions Award
The 2022 Lycetts Team Champions Award – ENTRIES NOW OPEN
The Lycetts Team Champions Award provides an opportunity for racing staff to tell the industry about their team and to gain the recognition they deserve. The Lycetts Team Champions Award recognises and celebrates the best teams on racehorse training yards, regardless of the size of the yard and from the staff's perspective.
Racing grooms, the judges want to hear your stories which demonstrate why you're part of such a great team and why there is no team quite like yours!
A £4000 prize awaits the winning team!
Entries open: Monday 28 February 2022
Entry deadline: Friday 8 April 2022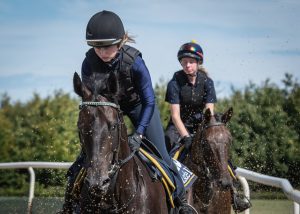 About the award
The most rewarding teams to be a part of work consistently well together over time. From the outside what we often see is good results and shared success. What we rarely see is the consistent effort being made, the dedication, hard work and commitment of the individual team members in the long term. 
Good teams are committed to supporting each other and making progress on bad days as well as good days. They create a sense of shared achievement and get to know the unique attributes and qualities everyone has to offer.
This is your opportunity to tell everyone how amazing your team is and to gain the recognition you deserve.  
How to enter
Simply tell or show us how great your team is and why. That's it!
Send a written entry or have some fun making a video and send your entry to
awards@racehorsetrainers.org before 8 April 2022. You can also send images to support
your written entry if you wish.
If your file is too large to send via email, send it via a file sharing service such as Dropbox,
GoogleDrive or WeTransfer to the email address above.
Ready to enter?
Make sure you have permission to share any videos and photos submitted with your entry. 

If you're making a video, aim for it to be no longer than about five minutes, but shorter is fine too. 

Videos do not have to be professional quality, using your phone's camera is absolutely fine. 

If you're writing out an entry, please keep it to approximately two sides of A4 or less.
In your entry, include; 
The name of your employer and a brief reference or testimonial from them.

A contact name, email address and telephone number for the member of the team submitting the entry. 

What your team would like to spend £4000 on for the yard. Perhaps it's new or upgraded staff facilities? Or a team activity? Or some equipment that everyone will benefit from? Tell the judges how you would spend it to benefit the staff. 
What are the judges looking for? 
Judging the best team will be a panel of independent judges. They will be looking for the following types of qualities demonstrated or explained in your entries: 
A great team is:
Ambitious, enjoy making progress, feel they have the opportunity to develop themselves and can respond well to changing situations

Made up of a diverse group of individuals who know they can be themselves in front of each other, speak up when they have questions and feel supported through more difficult times

Motivated to help each other to work safely, trusted to take on more responsibilities and recognise each other's skillsets.

Loyal to each other, confident that they are appreciated and valued for their work, and are the first to congratulate or commiserate with their teammates.

Able to communicate with each other, expressing praise, constructive criticism and apologies, and can reciprocate.

Inspiring and engaging to be a part of. You motivate, respect, problem solve and bring out the best in each other.

Dependable, conscientious and able to go the extra mile to achieve a common goal.

Demonstrably vibrant, happy at work and clearly love their job & workplace.

Works together to ensure the safety of their colleagues and reduces the risk of injury to themselves, each other and the horses in their care.

Motivated to be the best that they can be in everything that they do, whether that be in yard standards, in turnout, in health and safety or in race results.
Recognise yourself and the people you work within these statements? Then you could win £4,000 for your team!
Terms and conditions 
Only one entry per yard.

There is one prize of £4,000 which will be gifted to the winning team's employer to be spent on the item(s) outlined in your entry. 

The deadline for entries is 8 April 2022.

An independent panel of judges will assess the entries and invite a shortlist of teams on a video call with the judges for an informal Q&A session. The whole team does not have to be present for the call but a number of representatives must take part in the call. Trainers of shortlisted teams will be asked to host the visits which are likely to take place in May
and June 2022. The judges will ask questions about your entry and be keen to hear your experiences and views on what makes your team so unique.

One team will be selected to win the Lycetts Team Champions Award. The judge's decision is final. 

Representatives from the winning team will be invited to Sandown Park Racecourse on 14 September 2022 to receive their prize, and enjoy hospitality courtesy of Lycetts Insurance.